Testimonials
| | |
| --- | --- |
| | West Point, Nebraska |
When Greg Kreikemeier says, "Anything we buy in the future will be a T-L," he has what he's convinced are solid reasons. He's in charge of the 4,000- acre crop side of Kreikemeier Ag, Inc. outside of West Point, Nebraska, that's 60 percent corn.
His brother, Jason, handles their 3,000 head feedyard. 500 to 900 pounders at purchase, depending on the market, are turned two to three times a year.
60 percent of the cropland is irrigated. Six of the 19 center- pivots operated are T-Ls, so he has a lot of comparison experience with the electrics with which they started back in 1982.
"Overall," he points out, "maintenance on the T-Ls is so much easier. We just check the gear box grease, and that's generally it."
"They're a simple system to operate and maintain, as well. A farmer can walk up to a T-L and quickly see if anything is wrong. It won't require an electrician to figure it out."
"And, the T-L panels are simple, and not complicated. Regardless, we just haven't had much trouble with our T-Ls."
Kreikemeier also likes that there are only two gear boxes versus three gear boxes as on each electric tower. On their electric systems the contacts have become a problem. As a result, they typically experience a lot of nagging false stops on the first couple of laps every summer.
The decision to begin buying T-Ls was aided by the observations of a neighbor who has T-Ls that are now 30 to 40 years old. He told Kreikemeier, "I don't do much to them, just change the hydraulic filter. T-Ls just run and run."
Bottom line: The Kreikemeier T-Ls are yet to have their first dealer service call.
Then there are the all-too- common summer electrical storms. Keep in mind that their fields stretch the diameter of a circle 60 miles. As Kreikemeier observes, "We might receive only .10-inch of rain with the lightening. However, the power has surged, and the electric pivots have all shut down. Meanwhile, the T-Ls are always running."
He's also noticed on some of their electric systems that the continuous starting and stopping is taking out the U-joints, often shearing them. He says that even on the newer electrics that this interrupted motion has to be harder on the gear boxes.
The continuous movement of the T-Ls is also appealing since Kreikemeier frequently fertigates through the systems. As he points out, "I do feel the constant movement significantly provides a more uniform application."
Then there's the matter of strength. No contest, according to Kreikemeier. He comments that, "The T-L's have the quality and seem to have a little bit heavier iron in them than the electrics. I do know the angle irons are heavier."
A careful shopper, with every center pivot purchase in recent years he's always checked the T-L price against its competitors.
"The T-L has never been higher," he reports. "I believe we're getting a better, simpler, and more reliable machine."
"With a T-L there's not 480 volts going down the system. That I do like. I like that a lot!" he stresses.
"Because, a lot of times when you have to troubleshoot an electric, the quickest way is to do it live. Even an area electric center pivot dealer was electrocuted three or four years ago.
"I have five children at home, and I definitely have one 'farmer' for sure, and I hope five. So, that 480 volts is probably the most important reason for buying T-Ls. Years ago we didn't think about all that electricity. Today, it's different.
"Whatever the reason, we're happy with our T-Ls."
| | |
| --- | --- |
| | Dodge, Nebraska |
With nearly 1,100 acres of corn and soybeans under T-L Irrigation pivots, Wayne Beck and his son, Curtis, are surely among T-L Irrigation's best customers. That's especially true when you consider Wayne has a history with T-L that goes back to 1956, when his dad drilled his first well and started using hand-moved 40-foot T-L aluminum pipe with sprinkler heads.
The irony is that the quarter- mile-long T-L tow lines the family bought in the early 1960s to replace the hand lines were the last T-L products the Becks ever purchased new. Even though they now own 13 T-L center pivots, all those units were purchased used and refurbished by Wayne and his dad, Harold, or, later, by Wayne and Curtis.
"The pull lines were so much easier to move than the hand move lines we used when I was a kid," says Wayne. "Of course, the first center pivot units were even easier than the pull lines," he adds, noting that they purchased their first pivot in 1977. "The move from hand lines to tow lines and, finally, center pivots also let us go from 38- and 40-inch rows to 30-inch rows."
"Our first T-L pivot was a used 13-tower, chain-drive unit that I saw advertised in the Omaha newspaper," Wayne recalls. "It was a 1973 model that came from what used to be Traudt Irrigation in Sutton, Nebraska (now Sutton Irrigation), and it had been used on a 160-acre field near Giltner."
"Ernie has been gone several years now, but I still owe a lot of credit to Ernie Traudt for getting us started," he insists. "He asked us how we planned to use the pivot and we told him we wanted to make two 40- acre pivots out of it. His answer was, 'Well, I've got a pivot point and hydraulic pump you can use for that second one.' So that's how Dad and I got started with T-L center pivots."
With the experience they gained from that first one, Beck says he and his dad, who has since passed, began buying, moving and building even more T-L units. In fact, he says that it got to the point they could dismantle a 10-tower T-L unit to the point it could be transported in as little as three days.
"For a couple years there, Dad and I were bringing home two pivots each winter," Wayne continues. "Most of those were still chain-drive units that farmers had traded in for the new planetary drive machines. Of course, we understood hydraulics and even chain-drive machines were an improvement on what we had."
Today, Wayne and Curtis continue to buy and refurbish used T-L pivots. While a few newer planetary drive machines have been used to replace old chain-drive units, the majority have been installed on land they've added over the years. One year, they even went so far as to turn a 13-tower unit into an 18-tower model, using parts they had on hand from other used models.
"We still have three old T-L units that are chain driven," says Curtis. "However, the rest have either been converted to planetary drive models or replaced altogether. To convert the chain-drive units, we have to cut off some of the old drive system, then weld on new brackets for the planetary drive pumps and add the tubing," he adds. "But we've been able to convert several of them without too many problems."
Beck says the most recent purchase was a T-L pivot that was installed on 200 acres that the family purchased in 2007. As a result, every acre that the family farms, except for the corners, is now under pivot irrigation, providing corn yields that have continually averaged over 200 bushels per acre.
"With the planetary drives and worm drives that T-L puts on the new units, about all you have to do is go out there and check the grease in the gearboxes and check the air in the tires," Wayne says. "I have replaced the seals and rebuilt the planetary drives in a few units," he adds. "But even that has been minor, compared to the amount of work electric units require. It's not that I don't know how to work with electricity, because we're all electric on our wells. But I'd much prefer working with hydraulics and having an electric circuit that I can test with something as simple as a light bulb if necessary."
Beck says he also prefers the continuous movement of T-L pivots and the lack of micro- switches that can go bad after a few years.
"You don't have any of that 'herky, jerky' movement as it moves through the field," he grins. "And I think you have to consider the torque it requires to re-start every time it stops on some of these hills."
"I know there are guys who prefer electric pivots who will say, 'Well, at least I don't get my hands dirty working on the pivot'," he concludes. "I guess my answer would be, 'I don't profess to wear a white shirt when I'm working on equipment'. The important thing is T-L pivots are just plain reliable. And even when they do need some work, they're easier to repair and they're simple to operate."
| | |
| --- | --- |
| | Osmond, Nebraska |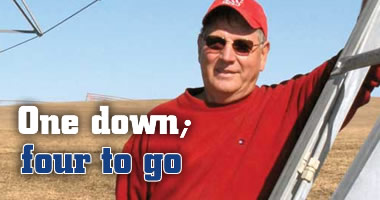 At 66 years of age, Rod Ronspies doesn't have grand ambitions of expanding the size of his farm or owning the newest and biggest equipment. Instead, he prefers to wisely manage what he has, including the 1,100 acres of rolling farmland he owns near Osmond, Nebraska. Plus, it leaves him more time to enjoy a variety of hobbies that include motorcycles, airplanes and antique tractors.
"I'm not one to farm fencerow to fencerow," he says. "I'd rather plant trees and grass for the wildlife and preserve the land for a future generation. They left it in good shape for me, so I want to leave it that way for the next person."
"I love trees, though" he insists. "I plant about 800 of them every other year. I've got them on the field edges, pivot corners, waterways and about anywhere else I can put them. I want the wildlife to be happy," he relates.
That doesn't mean that Ronspies isn't serious about farming, though. In the six decades he has lived on the family farm, he has seen yields nearly double and the farm's acreage grow by more 800 acres.
"I've been on this farm since 1942 when Dad bought the first 240 acres from an insurance company," he says. "Back then, it was all dryland farming with a rotation of corn, soybeans and oats, and we were lucky to see corn yields top 90 to 100 bushels."
Today, the farm is equally divided between corn and soybeans that is irrigated by a total of five center-pivot irrigation systems.
"We installed the first center pivot systems in 1974," he says, noting that at least 70 percent of the farmland in his area is now irrigated. "Almost immediately, we saw yields climb to around 135 bushels per acre … and we thought that was really good. Now, with new technology in herbicides, plant breeding and equipment, we've seen corn yields climb to 190 to 220 bushels and beans yield 50 to 60 bushels per acre on average."
In the meantime, Ronspies has also changed the way he markets crops, having forward contracted his 2008 harvest for as much as $7 per bushel on corn, with soybeans going for even more.
To improve efficiency and enhance weed control, he has also added Roundup Ready(R) corn to the Roundup Ready soybeans he has planted for the past 10 to 12 years. He even owns two older Gleaner(R) rotary combines that are individually fitted with corn and bean heads so he doesn't have to switch headers.
"At my age, I like for things to be easy," he says. "But I like for them to be environmentally friendly, too. That's one reason I've even gone to splitting my fertilizer applications. By putting part of it on when I plant and knifing the rest in as sidedress fertilizer, I'm able to keep almost all of it on top where the plant can use it. The NRD shows that our well samples are almost as clean as bottled water." Ronspies might also be quick to add T-L center-pivot irrigation systems to his easy, yet environmentally friendly list.
Ronspies purchased his first T-L unit in 2005 when one of his original pivots succumbed to rust.
"I just love my T-L because it's so maintenance-free," he adds. "The other selling point for me is that there are very few electrical components and nothing to get electrocuted by, and that does happen to a few people each year," he adds. "In the next three to five years, I expect to replace all the electric units with T-L systems, even though I have electric motors on the wells. There's just nothing else like that hydraulic drive, especially when you're looking at $80 an hour or more to have an electrician come out to the farm to fix an electric-drive unit.
"At my age, I've got better things to do than take care of electric pivots, and a lot more things I'd rather invest in than parts and labor."
Cemper Equipment
49491 Hwy 20, O'Neill, NE 68763
(402) 394-7764
(402) 394-7099