Electric Pivot Parts
Cloverleaf Coupler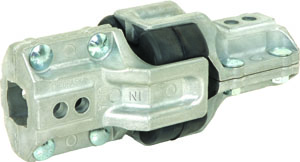 Cloverleaf couplers feature a high quality insert that absorbs drive-line stress and shock, extending gear life.
Castings are made of a high strength aluminum alloy - won't rust or seize on shafts.
High strength die cast coupler jaws.
Dissipates shock loads to other components.
Design provides automatic re-alignment.
Fertilizer, weather, and UV resistant.
Fits virtually all irrigation system drive lines.
Supplied with grade 5 carriage bolts - for easy assembly.
For easy identification, each part has its part number on it.
Each coupler is prepackaged – makes it easy to organize your inventory.
Combination ends provide versatility - stock fewer sizes.
Made in the USA.
Durst Helical Gearmotor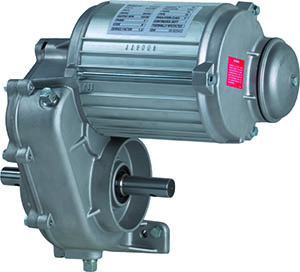 Aluminum gearbox with heavy-duty bearings and gearing.
Helical gearing for extended life and quiet operation.
Universal (8-hole) footprint.
Interchangeable with Valley type unit.
Drive shaft bell adapters.
Finned aluminum motor casing for cool operation.
Steel sleeve inside aluminum housing at bearing seats.
Electric conduit junction box sealed with o-ring.
Loctite sealing of all motor junction faces.
Three condensation drain ports in motor.
Threaded conduit box for cord connector.
Three Phase 460V/60Hz - 380V/50Hz.
Installation Class - F.
Thermal protection.
UL & CSA Certified.
Continuous Duty.
Durst Wheel Gearbox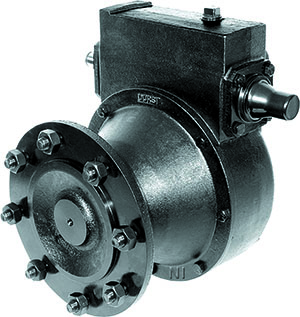 13-hole universal mount pattern - the most versatile in the industry. Fits multiple brands of lateral and center pivot systems.
Input and output Trakseals™ – a rotational multi-lip seal that prolongs the life of the gears, shafts, and bearings. Keeps oil in and contaminates out.
Dual input worm shaft provides versatility.
The highest strength bull gear on the market.
One-piece large diameter, high strength output shaft with wheel support ring.
Designed to handle the heaviest spans in the industry.
Totally enclosed internal air expansion chamber.
Manufactured in an ISO 9000 certified factory ensures the highest quality standards.
Every unit is date coded for accurate tracking.
Nebraska Irrigation Collector Ring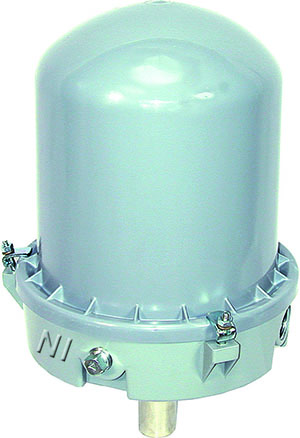 Count on NI collector rings for reliable, uninterrupted power to controls and drive train. 
Bronze, oil-impregnated, oversized bearings offer trouble-free rotation. 
Copper alloy rings and graphite brushes ensure maximum conductivity. 
Sturdy housing keeps moisture away from electrical parts.
Nebraska Irrigation Lindsay Style Tower Box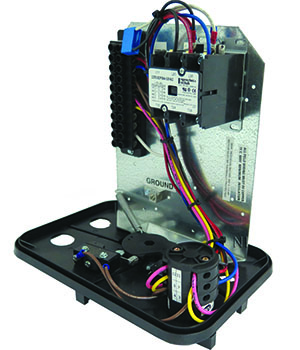 Options:
Mounting hardware and actuator, bolt-on or weld-on.
Overload relay protection (wide range of sizes for motors of different horsepower).
Nebraska Irrigation Main Panel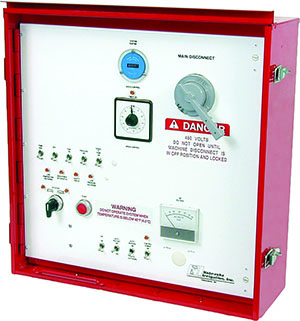 Convert old, undependable controls to new controls from Nebraska Irrigation. Add new life to older, structurally sound systems. The NI Main Control Panel is adaptable to control almost any system. It comes equipped with many standard features, and options may be added at the time of purchase or a later date. Basic bolt-on mounting brackets are included.
Please contact us with your questions about adapting NI Main Control Panels to existing irrigation systems.
Heavy-duty, weather-tight enclosure.
All components are UL and CUL approved.
Percent timer.
Hour meter.
Volt meter.
24 V auxiliary tap.
Directional switch.
Main power disconnect.
Galvanized steel and painted box.
Bolt-on mounting brackets.
Nebraska Irrigation Valley Style Tower Box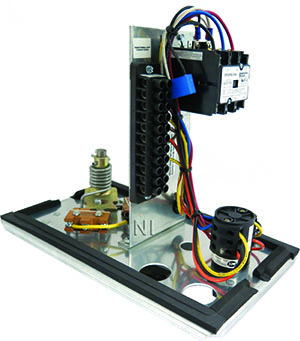 NI is a leading manufacturer and supplier of replacement guidance controls to make irrigation systems dependable. We build them to be the STRONGEST and most TROUBLEFREE electric irrigation system alignment control boxes in the industry.
NI Tower Control Boxes are designed to perform smoothly and flawlessly season after season. They can withstand harsh elements, both inside and out. They are versatile, so they can replace virtually any tower box from any manufacturer.
Standard Features:
UL Listed.
Heavy-duty galvanized frame.
Heavy-duty electrical components.
Components are UL and CUL approved.
Stainless steel cam and bearing assembly.
Zinc-plated cam shaft.
Weather- and chemical-resistant bearing.
Heavy-duty, impact- and sunlight-resistant control box cover.
Plated latches.
Easy installation.
Optional Features:
Bolt-on or weld-on mounting hardware.
Overload relay protection; wide range of sizes for different horsepower motors.
Stainless steel or polyester powder coated frame.
Steel-Flex Coupler
The patented Universal Steel-Flex Coupler is the most versatile coupler on the market today. It can be taken to the field fully assembled for quick installation. Simply slide the round end over the gearbox shaft and insert the pin bolt, then place the drive shaft in the universal end and secure it with "L" bolts. It features a unique, heavy-duty drive disk that tolerates misalignment and absorbs shock from motor starts, adding life to gearboxes. The disk is also sunlight resistant and won't be eaten away under abrasive soil conditions.
Round end is split to tighten on worn shafts - adds life to old shafts.
Universal end fits 3/4", 7/8", 1" Square Shafts.
Supplied with grade 5 bolts - bolts prepackaged for easy assembly.
Coupler ends feature a high quality industrial coating.
Coupler ends are made of high tensile American steel.
Coupler ends are precision welded (robotically) - provides consistent quality.
RainTec Helical Gearmotor
RainTec Wheel Gearbox